Parts and consumables for wheel drive systems
Parts and consumables for wheel drive systems
The range of components for the Première Classe wheel drive system includes driveshafts, CV joints, bellows kits, bellows.
Being integrated in the wheel transmission system, the driveshafts must compensate for all variations in angle or length as well as a series of shocks resulting from the handling of the steering for a perfect synchronization between the joints. Driveshafts are exposed to maximum stress all the time the vehicle is in operation. In addition to cornering angles and translational movement, the component joints as well as the bellows must be able to withstand temperatures between -40 and +120° C, as well as rotational speeds of up to 2800 rpm.
Rigorous selection of materials and how to treat them are essential for the lifespan of the driveshafts. Première Classe driveshafts and their components are subjected to complex testing both through specific laboratory procedures and in real operating conditions, using as a benchmark the parameters specified by car manufacturers. We are constantly looking for solutions to improve product performance and extensively develop the range of components for the transmission system, in trend with the technological evolution of the car fleet.
The components for the Première Classe wheel drive system are approved both by the competent institutions in Romania, but also at the European level.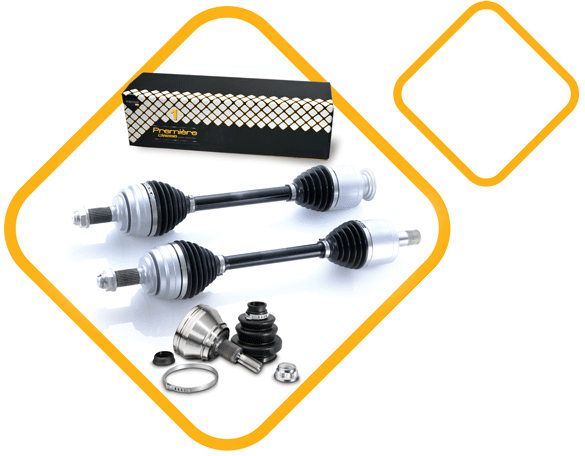 Technical characteristics

PREMIUM AFTERMARKET SPARE PARTS COVERING OVER 80% OF THE EUROPEAN CAR FLEET

Premium-grade components and consumables for the steering, suspension, braking and wheel drive systems
DISCOVER OUR PRODUCT RANGE